How do people with babies survive without babywearing? While pregnant I aspired to be a slinging mama, wearing my baby all day. Visions of strapping my baby on my back while I worked in the fields (what fields are these?) got confused in there somehow as well. But after the birth, I admit I was content to just hold my baby. After a few days we tried out the ring sling, which worked fairly well after we went down to the shop on the 101, Nature's Mother (http://www.naturesmom.com/), and the kindly owner Sara showed us just exactly how we were doing it wrong.
Since Sophie only ever wanted to be on me or my husband, I got excited about babywearing. I started attending the local group that had just started meeting at Ama Mama, and searched for a two-shoulder carrier, because the ring sling didn't seem all that comfy to me. I still was using one hand to secure Sophie at all times. Yeah, I was probably still doing it wrong, but apparently I needed more than one lesson to learn that. I excitedly ordered a Babyhawk (http://www.babyhawk.com/), nearly giving myself an anyurism trying to choose the two patterns of fabric for my reversible dream carrier (and the company adding lovely fabrics as I browsed was not helping!). I finally chose blue taffy and bohemian green--the latter of which is incredibly pretty and perfect for me.
To my dismay, Sophie hated riding in the Babyhawk unless she was asleep. She was still so small she had to ride with her legs "froggy style" which is a natural pose for newborns, but someone forgot to tell my daughter that in the briefing babies get as they prepare for the great parachute jump out f the womb. So I was reduced to popping Sophie out whever she awoke and struggling to carry her and the fabric with its long straps before and after naps, and teetering Sophie on chairs as I tied it on as she was nodding off. Right now she tolerates the adjustable Mei Tai Baby (http://meitaibaby.com/) that I picked up secondhand off TheBabyWearer.com because her legs can hang out. Soon she'll be big enough to hug her legs around me and enjoy the Babyhawk.
But our deliverance came in the form of a stretchy wrap. A Gypsy Mama Bali Baby Stretch (http://www.gypsymama.com/) in Aphrodite and Fortuna. (Of course I got two. They're like tee shirts, in terms of softness and sturdiness of the fabric as well as in how they can pick up my nursing-mama stink, which is only combated these days by a Crystal Stick, which is kind of like Iraq.) Anyway, I tried one out at a NINO (Nine In Nine Out; it's since changed to Babywearers International) and my daughter amazingly was content in it. She faced in but could look all about, the perfect balance of needing to see and explore the world and be able to retreat into Mama's bosom for sensory relief or look into my face to see what I thought, that everything was okay. She could have her legs free. It was uber-comfy for me. The ends of the wrap were tapered so there wasn't a ton of excess fabric on me. And I could wrap at home and pop Sophie in an out all I wanted while at the store. That was essential for us, because she nurses all the time and poops nearly as frequently.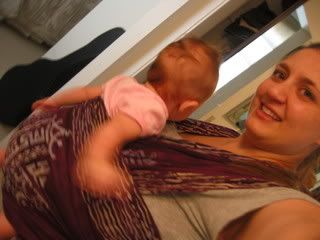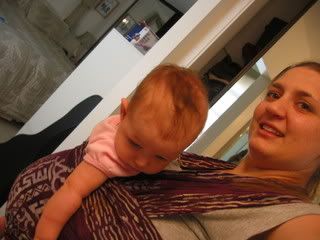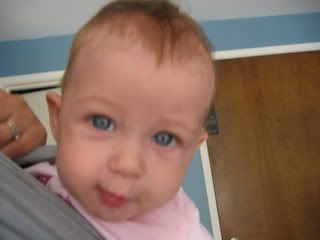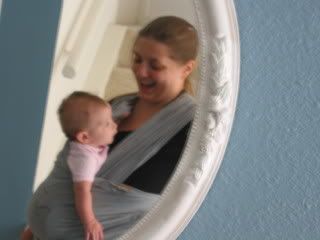 When I started looking into babywearing, I was thinking slings. I looked at hotsling pouches online. I conceded that a mei tai might work out okay, but I thought the woman I saw wearing her baby in one, at a Dave Matthews and Tim Reynolds concert, was pretty daring. I rejected the idea of wrapping because it seemed like too much fabric, too much of a learning curve, and too out there. Of course, my baby ended up being a wrap baby. I forgot it wasn't my decision at all! Once again, she's showing me the wisdom of trying things her way.
Now big chunks of the day, I'm wearing Sophie, whenever I need to get something done but include her too. I cleaned my whole house today wearing her. Dishes, laundry, vacuuming (she loves this, nods right off), tidying up... we can do it all. I have her right there with me, and she's happy to ride along, drinking it all in. She's easier to get down for a nap after a stretch of babywearing, and gets less stressed out than when I tried to put her down for everything. We go for long walks and she laughs as she gazes over the sunrise and spins her head up and dangles it back to see the tops of lampposts and trees. I feel so capable and free with this simple yet amazing tool, something women have used for centuries, and yet something that still gets comments about how "they didn't have that in my day." I get stares, and compliments. I haven't had to buy a stroller yet. I get my baby with me, and I get stuff done!